Welcome to Caviar Drip's definitive guide to the Best Food Movies and TV Shows for Chefs and Foodies!
Indulge your senses and embark on a mouthwatering cinematic journey with our carefully curated list of the best food movies and TV shows tailor-made for chefs and foodies alike.
From riveting chef-driven dramas to inspiring culinary documentaries, these on-screen delights will awaken your appetite and provide a first-row seat into the exciting world of cooking and gastronomy.
Whether you're a professional chef looking for inspiration or a dedicated food enthusiast craving a feast for the eyes, our handpicked selection of chef movies and food TV shows promises to satisfy your cravings for exceptional food content.
So, grab your apron, sharpen your knives, and embark on a mouthwatering journey through culinary cinema and television.
Just make sure to have plenty of snacks on hand because these movies and TV shows will definitely leave you hungry!
6. Ugly Delicious – Travel and Food TV Show (2018 – 2020)
Original Network: Netflix
Directed by: Laura Gabbert, Morgan Neville, Eddie Schmidt, Jason Zeldes
Presented by: David Chang
Starring: Adam Perry Lang, Alan Yang, Alex Raij, Allison Cook, Ann Tran, Antonio Pace, April Bloomfield, Aaron Yang, Asha Gomez, Attilio Bachetti, Aziz Ansari, Ben Miller, Brandon Jew, Carey Bringle, Chris Heyn, Chris Nuttall-Smith, Chris Shepherd, Corey Lee, Cristina Bowerman, David Berris, David Chang, David Choe, David Simon, David Whitaker, Diep Tran, Eddie Schmidt, Edouardo Jordan, Eduardo Garcia, Elliott Moss, Enrique Olvera, Evan Kleiman, Franco Pepe, Floyd Cardoz, Fuchsia Dunlop, Gary Bimonte, Gary Selesner, Gary Wang, Gillian Jacobs, Gustavo Arellano, Harley Kaplan, Ian Mosby, Jennifer 8. Lee, Jean-Georges, Jessica Koslow, Joe Ng, Johnny Tran, Jonathan Gold, Jonathan Hooper, Josh Martinez, Justin Gates, Justin Yu, Kerry Bexley, Kris Yenbamroong, Latonya Whitaker, Mario Carbone, Mark Bittman, Mark Iacono, Masahiko Kodama, Massimo Bottura, Michael Montano, Mike Mills, Nikki Tran, Nina Compton, Padma Lakshmi, Psyche Williams-Forson, Ray Garcia, Raymond Xie, Rob Walsh, Rosio Sanchez, Ruth Reichl, Sean Brock, Serena Dai, Sherri Chang, Steven Yeun, Susumu Kakinuma, Taka Kondo, Todd Lively, Tommy Tran, Tom Micklethwait, Tracy Gates, Trong Nguyen, Walter Green, Wendy Lam, Wolfgang Puck, Zaiyu Hasegawa
Every foodie knows Chef David Chang by now, head honcho of the Momofuku empire (and prominently featured on this list's #3 show)!
Well, the brash and opinionated Chang teamed up with producer and director Morgan Neville, the mastermind behind such delights as Abstract: The Art of Design and Roadrunner: A Film About Anthony Bourdain, to bring us Ugly Delicious, one of the most entertaining and satisfying foodie show in existence!
Streaming on Netflix, Ugly Delicious combines elements of travel, cooking, history, comedy skits, celebrity cameos, and general nuttiness, taking the viewers on a unique culinary journey beyond the usual confines of food television.
Each episode deftly highlights a specific dish or concept, exploring its preparation in different regions and evolution over time.
From understanding the authenticity of pizza to demystifying the true origin of Nashville hot chicken, the series presents an array of thought-provoking questions about the food we consume.
With a cohort of renowned personalities, including Jimmy Kimmel, Ali Wong, Eric Wareheim, and chefs Roy Choi and Rene Redzepi, Ugly Delicious brings a fresh perspective to its discourse and fun by the boatload!
The show is ambitious and innovative, featuring a mix of restaurant visits, chef interviews, and cleverly interspersed comic relief the likes of fake commercials, animations, film clips, and parodies, nonchalantly swaying from Mexican women making tortillas by hand to the guilty pleasure of devouring a Taco Bell Crunchwrap Supreme.
Ugly Delicious is as much for food lovers as it is for those who prefer a more casual approach to cuisine. It's a series that acknowledges the delicate balance between high-end dining and everyday comfort food, recognizing that a Domino's pizza can be just as satisfying as a pie from the legendary Roberta's in Brooklyn.
So, whether you're a connoisseur of fine dining or you prefer to indulge in fast food guilty pleasures, Ugly Delicious invites you to join Chef David Chang and his merry band of culinary adventurers on a gastronomic rollercoaster ride.
Strap in, because this show will take you to new culinary heights and remember, in the world of Ugly Delicious, food knows no boundaries, rules, or judgment.
So grab your favorite snack, sit back, and happy binge-watching!
5. Jiro Dreams of Sushi – Documentary Film (2011)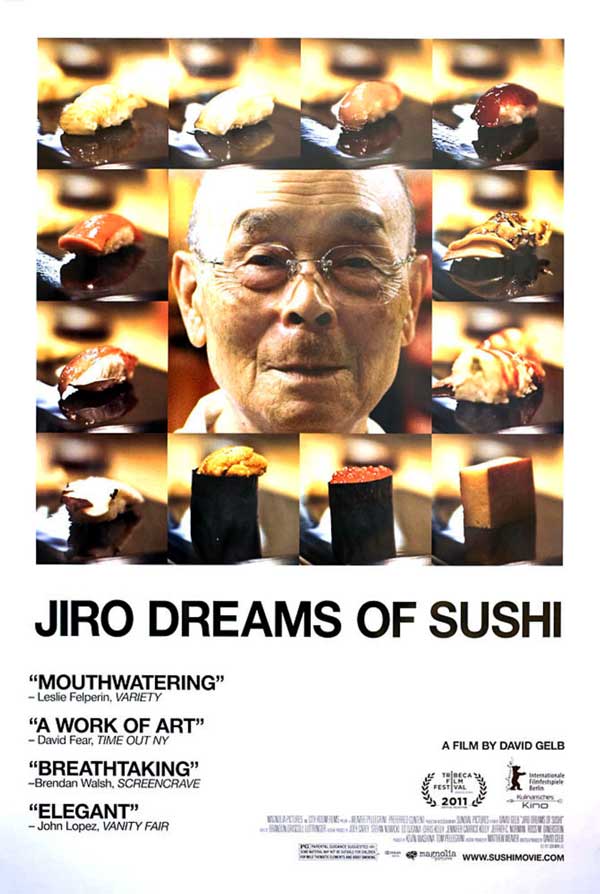 Directed by: David Gelb
Starring: Jiro Ono
Distributed by: Magnolia Pictures
A prequel of sorts to our #2 entry, the 2011 documentary Jiro Dreams of Sushi chronicles the daily life of 85-year-old three Michelin-starred sushi master Jiro Ono, chef-owner of one of Tokyo's most celebrated sushi restaurants, Sukiyabashi Jiro (located in a subway station of all places).
The documentary follows Ono, from his early mornings at the fish market through his days of prep and service, as he tirelessly works at his craft in a never-ending quest for absolute perfection fueled by an undeniable obsession with sushi.
Jiro Dreams of Sushi offers a rare glimpse into Ono's culinary vision and the unnerving dedication and attention to detail required to create truly exceptional food.
In addition, filmmaker David Gelb's cinematography excels at capturing the subtle details of a modest life filled with passion, dedication, discipline, love, and humility.
A must watch.
4. The Bear – Fiction TV Show (2022 – Present)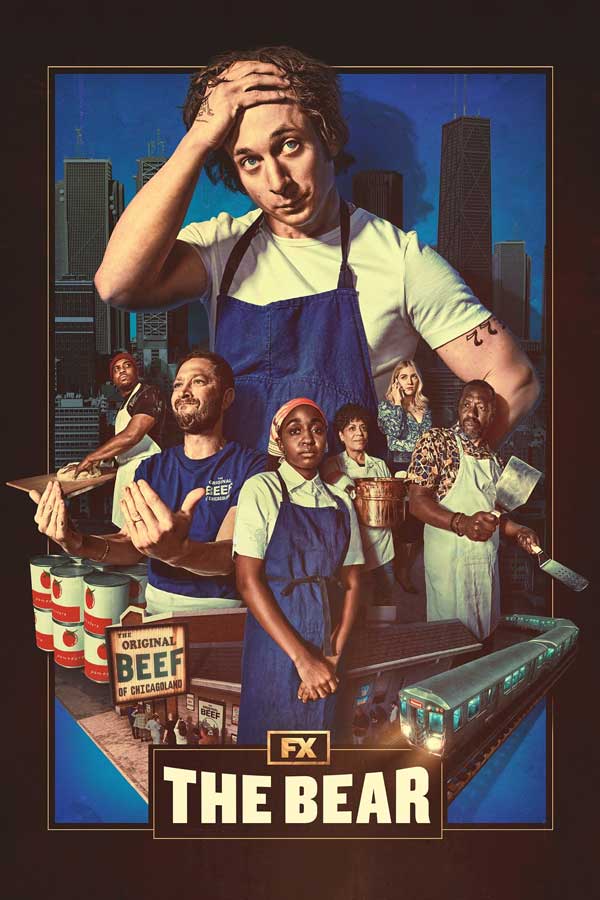 Original network: Hulu
Created by: Christopher Storer
Starring: Jeremy Allen White, Ebon Moss-Bachrach, Ayo Edebiri, Lionel Boyce, Liza Colón-Zayas, Abby Elliott
The Bear is probably the food movie or TV show that does the best job of depicting in all its rawness the daily grind that is restaurant life.
The show follows young chef Carmen "Carmy" Berzatto's return home to Chicago, following a stint in New York fine dining establishments, to take over his family's sandwich shop following his older brother's suicide.
Sure, some things don't add up, from braising whole cuts of beef and baking fresh bread for the sandwiches or having a pastry chef and family meals in a humble take-out restaurant.
But if you've been in the trenches, there's so much that The Bear captures perfectly: the constant exhaustion, the unending problems, the cabin fever, the flaring tempers, and all the highs and lows of cooking, to name a few.
The New Yorker called it a "gritty fairy tale of cooking and grief," and The Guardian describes The Bear as "television so good it might actually kill you."
Overall, The Bear is an important show that offers an unglamorized perspective on the struggles of working in restaurants, starting an honest discourse within an industry that's deeply broken
Well worth your time.
3. The Mind of a Chef – Documentary Series (2012 – 2017)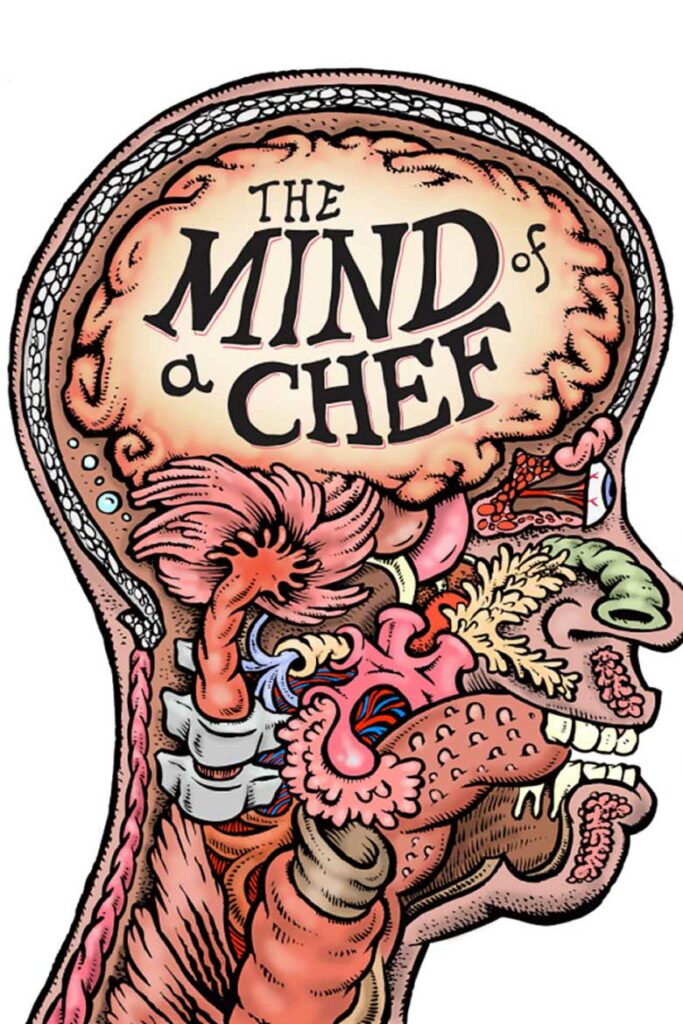 Original network: PBS
Created by: Zero Point Zero Production
Starring: David Chang, Sean Brock, April Bloomfield, Edward Lee, Magnus Nilsson, Gabrielle Hamilton, David Kinch, Ludo Lefebvre, Danny Bowien
Narrated by: Anthony Bourdain
The Mind of a Chef is an exceptional TV series that takes us behind the scenes and deep into the culinary lives of some of the world's most talented and creative chefs.
Produced by Anthony Bourdain's Zero Point Zero Production and narrated by the man himself, the show has enthralled food enthusiasts ever since its premiere in 2012.
Each season of The Mind of a Chef focuses on a different superstar chef, providing viewers with an intimate and deeply detailed look into their creative process, inspirations, and unique approaches to cooking.
The various seasons feature culinary icons David Chang, Sean Brock, April Bloomfield, Edward Lee, Magnus Nilsson, Gabrielle Hamilton, David Kinch, Ludo Lefebvre, and Danny Bowien, each one more fascinating than the next.
But what sets The Mind of a Chef apart from other food shows is its ability to blend cooking, travel, history, and science into a compelling narrative highlighting every individual's unique artistry and passion.
The New Republic even hailed it as 2017's "best show on television."
With its engaging Bourdain storytelling and visually stunning cinematography, The Mind of a Chef is a must-watch for chefs and foodies alike interested in dissecting, with stunning granularity, some of the most compelling culinary minds of our time.
2. Chef's Table – Documentary Series (2015 – Present)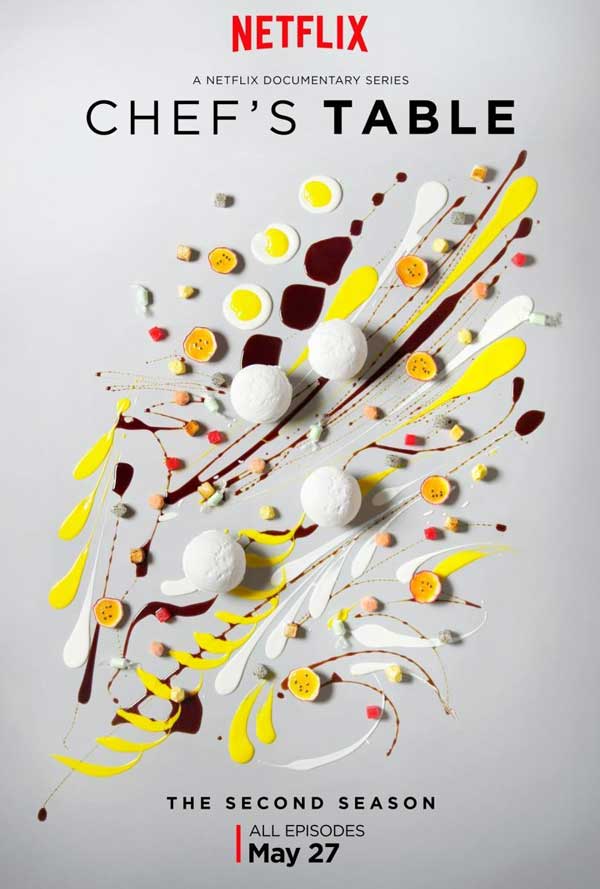 Original network: Netflix
Created by: David Gelb
Starring: Massimo Bottura, Dan Barber, Francis Mallmann, Niki Nakayama, Ben Shewry, Magnus Nilsson, Grant Achatz, Alex Atala, Dominique Crenn, Enrique Olvera, Ana Roš, Gaggan Anand, Alain Passard, Alexandre Couillon, Adeline Grattard, Michel Troisgros, Jeong Kwan, Vladimir Mukhin, Nancy Silverton, Ivan Orkin, Tim Raue, Virgilio Martínez, Christina Tosi, Corrado Assenza, Jordi Roca, Will Goldfarb, Cristina Martinez, Musa Dağdeviren, Bo Songvisava, Albert Adrià, Mashama Bailey, Dario Cecchini, Asma Khan, Sean Brock, Tootsie Tomanetz, Lennox Hastie, Rodney Scott, Rosalia Chay Chuc, Chris Bianco, Gabriele Bonci, Ann Kim, Franco Pepe, Yoshihiro Imai, Sarah Minnick
Chef's Table undeniably revolutionized gourmet food television like no other TV show.
A somewhat spin-off of the 2011 documentary Jiro Dreams of Sushi, creator David Gelb expanded upon his original concept to showcase some of the world's most revered Chefs in a docuseries just as aesthetically breathtaking as the Michelin-starred dishes depicted throughout.
With each episode focused on a different Chef, the likes of Massimo Bottura, Magnus Nilsson, Grant Achatz, Dominique Crenn, and Sean Brock, the series provides an intimate foray into the epicurean journey, personal trials and tribulations, daily life, and philosophy of some of the most determined and inspiring culinary artists of our generation.
Although predominantly set in Haute Cuisine establishments, Chef's Table also features themed seasons dedicated to France, Pastry, BBQ, and most recently, Pizza.
One thing is certain: as you devour the dizzying intro set to Vivaldi's "L'inverno" for the first time, you'll never look at gastronomy the same again.
1. Anthony Bourdain: No Reservations – Travel and Food TV Show (2005 – 2012)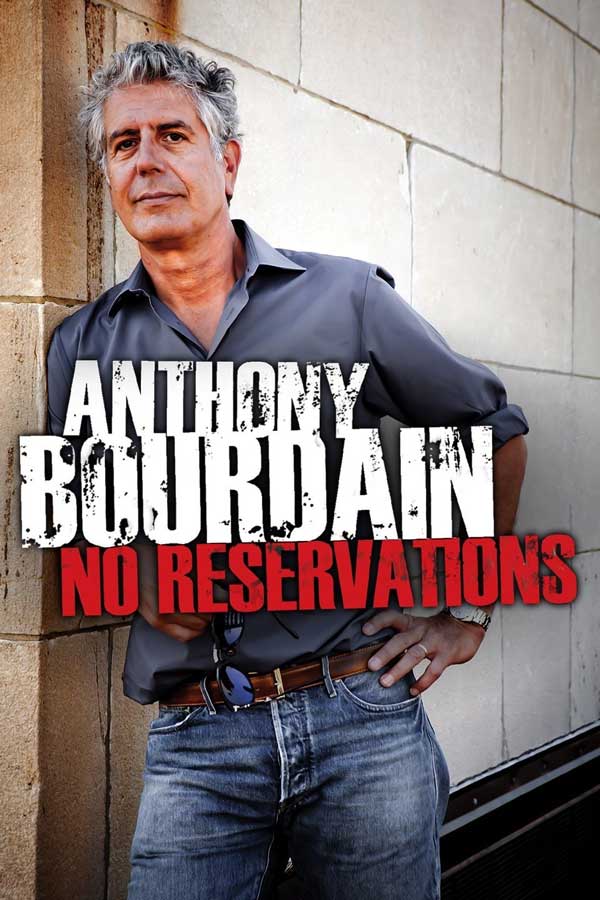 Original network: Travel Channel
Created by: Zero Point Zero Production
Starring: Anthony Bourdain
Anthony Bourdain had arguably the most instrumental impact on the lives and aspirations of modern-day Chefs and, in large part, single-handedly began the foodie revolution we currently find ourselves in.
A battle-tested veteran of the New York cooking scene, Bourdain's rise to fame came following the 1999 publication of his "Don't Eat Before Reading This" essay for the prestigious New Yorker magazine.
From there, the floodgates opened, leading to a New York Times bestselling book, Kitchen Confidential: Adventures in the Culinary Underbelly (buy on Amazon), multiple Emmy awards, a Peabody, a slew of further distinctions, and his elevation to global rock star status.
Of his four television shows, No Reservations remains the benchmark for all culinary lovers.
Bourdain found his footing with A Cook's Tour. The Layover serves its purpose well. Parts Unknown is exceptional in its own right.
However, it was with No Reservation and all its imperfections and rough edges that the gourmet storyteller made us both discover and dream of distant and no-so-distant lands, highlighting foreign quirks and, most importantly, shining a light on innumerably rich culinary and cultural heritages.
The series also provided unprecedented access to some of gastronomy's most illustrious protagonists, the likes of Ferran Adrià, Thomas Keller, René Redzepi, and Eric Ripert, oftentimes on a very personal level and outside the stern environment that is a professional restaurant kitchen.
Over the show's nine seasons, Bourdain managed to democratize food and culture like no one else before, seesawing between lavish Michelin-starred tasting menus and humble meals in developing countries, always adding his proverbial grain of salt and trademark disillusionment to the narrative.
Most importantly, Bourdain taught us about passion and love, living life to the fullest and without regrets, being more curious than judgmental, and the beauty of difference.